20. Levon Helm - "Dirt Farmer"
(Vanguard) (October 30)


I'm not the biggest fan of The Band. I mean, I love them, and have almost nothing negative to say. I watch "The Last Waltz" as much as any dvd I own, and can sing along to quite a few of their songs, but I wouldn't consider them one of my favorite bands of all time. My favorite member of The Band has almost always been Levon Helm, the drummer with the great midwest voice. "Dirt Farmer" came out of almost nowhere, and I fell in love upon first listen. I knew
Levon was still kickin
g around (he's appeared in a few movies and steals
the scene every time), but I know he's not doing too great.
I just heard an interview with him on Fr
e
sh Air, and the cancer sounds like it's really
taken it's toll. Speaking in a regular tone seems nearly impossible. But that's almost not evident through the 13 cover songs on this record. Levon
a
nd his daughter do traditional folk songs, a Steve Earle song, a Carter Family song, a J.B. Lenoir song, and he closes the album with a great cover of Buddy & Julie Miller's "Wide River To
Cross" It's a stunning piece of work, classic country and roots rock in the purest sense. I urge you to listen to the NPR interview, and I'll add a link because it's great. Levon hasn't had a hugely successful solo career, but with "Dirt Farmer" that might have to be reconsidered.


Recommended If You Like:
Van Morrison, The Band, American music
Myspace
NPR Interview
-------------------------------
--------------------------
19. M.I.A. - "Kala"
(XL) (August 20)

By most means, I should hate M.I.A. At one point, a
little while after "Arular" was released, I convinced myself I did. "What is this derivative trash?! This girl can't rap!" Blah blah. You're right. She can't. She also can't dress
. She has horrible album art. She doesn't seem like she is any good live. She has 1 good video. She steals lines, samples and everything else like they
are her own. But god damn it, I cannot get away from "Kala." I didn't have high expectations, but wh
atever expectations I did have were thrown to the curb, because I like this album a lot more than Arula
r. Diplo only produces a 3 tracks, while people like Switch handles the majority of the album. Timbaland does one at the end, and Blaqstarr is thrown in there somewhere or other. I just
r
ea
lly enjoy this record. You can listen to Rolling Stone or Pitchfork or whoever about how it's the sound of NOW, about her traveling all around the world and taking sounds fro
m all over, blah blah. I don't care, all I know is that when I take
long trips in my car, it's one of my go-to records now. It's fun, it makes me dance. A
nd while I hate this whole 80s neon shit explosion, this record makes the cut.
Recommended If You Like: Basement Jaxx, Neneh Cherry, Spank Rock
Myspace


-------------------------------
--------------------------
18. Rachel Unthank & The Winterset - "The Bairns"
(Universal) (August 20)
Apparently the Unthank sisters are pretty big news oversees, which is pretty weird
, because I had never heard of them until I got this record based on description (and word of a Bonnie "Prince" Billy cover). What we have is
a British folk record, mainly traditional in sound, but one of the densest records I've heard this y
ear. 15 songs, over an hour in length. Many songs over the 6 minute mark. This is dark, British
sea music. Rachel and
Becky Unthank haunt me. They do trad
itional, they cover Robert Wyatt, they have all sorts of short songs or shanties or whatever. This record is not something you just put on and ignore. This record commands attention and commands an hour to be spent with. I dare not listen to this in the day time. It's clearly a night
record, and most play
ed right before bed. It's dark, but not hopeless. It's beautiful for sure.
If
this band is indeed as big as I've heard, I hope they crossover here very soon. I'm including a link to a review not written
by me, but really well written, if my gushing interests you at all, you should read it and then see what you think. Don't go in half-assed.
Recommended If You Like: Traditional British Folk Music, but with a bit of a new twist
Myspace
Better Review Than Mine

-------------------------------
--------------------------
17. Erik Friedlander - "Block Ice And Propane"
(Skipstone) (August 14)


"Block Ice And Propane" is apparently avant-garde
cellist Erik Friendlander's ho
mage to family road-trips in his childhood. This is evidenced i
n the title, and in the distinctive humane, familiar feel of the songs. I've known about Erik through a variety of different projects over the years, but this is the first solo album of his that I have paid any attention to. The sound is something you immediately fall in love with. Erik bends his cello to sound like a distant guitar, like a banjo, he imitates sounds of the far east, he drags out some of
the saddest and most reminiscent notes you've heard in your life. It's remar
kable what he is able to do with his instrument. There is somber, reflective songs like "Dream So
ng" one of my most listened to pieces of music this year, and he gives you slow, deliberately picked strings to really fit the title.
There is also pure, in your face avant-garde bowing on pieces like "A Thousand Unpieced Suns" which while much louder and scarier than the majority of the gentle
pieces, still fits in with the theme of the album. A great narrative from a great artist.


Recommended If You Like: John Fahey, John Zorn, great instrumental music
Myspace (Make sure you watch the video on the left part of the page!)


-------------------------------
--------------------------

16. The Twilight Sad - "Fourteen Autumns & Fifteen Winters"
(Fat Cat) (April 3)

Listening to The Twilight Sad for upwards of the 30
times I've come upon a conclusion: These are some of the worst lyrics of th
e year. I mean on lots of songs, Bloc Party might even have a leg up on The Twilight Sad. But wh
at the Twilight Sad lacks in actual lyricism they more than make up for with musicianship and the scope o
f their songs. Much of this could be due to vocalist James Graham's thick Scottish accent, but when he sings simple lyrics like "They're standing outside/And they're looking in" you be
tter believe that holy shit there is someone standing outside, looking in. The music is dense and anthemic. You can't call it shoegaze, though it has walls upon walls of distorted guitar. The melodies, the accordians, all these other things
come into play to make this a pretty unique record to listen to. The band doesn't hold anything back at the risk of overdoing it. They definit
ely overdo it at times throughout the record, but it sounds damn
good. One of the be
st records of the year to sing along to, even if I can't understand half the lyri
cs.
Recommended If You Like: a Scottish Interpol going Asobi Seksu and being good friends with Bloc Party
Myspace
-------------------------------
--------------------------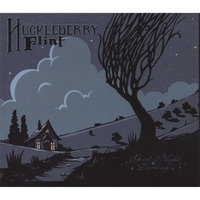 15. Huckleberry Flint - "Good Night Darling"
(Pillowfront) (?)


Every once in a while, a local band just needs to get some props. Huckleberry Flint is one of the most popular local bands here in Humboldt county,
California, and they deserve every ounce of fame they have here. The music the band creates
is that classic string band sound. They will get lumped into the bluegrass category, because anything with a banjo is, but they're not. They're like Old Crow Medicine Show, and you can't categorize them. Led by Dustin Taylor's amazing vocals (I mean, really amazing), "Good Night Darling" is the band's second album, half orig
inals, half traditionals, and a modern cover here and there (even OCMS's most famous song "Wagon Wheel") Local DJ and journalist Jen Savage probably summed up the b
and the best in one of her articles, "To be in the presen
ce of Huckleberry Flint is to be in the presence of something special. Something honest and good. And that's before they start playing." This is a band that's just having fun. They all have other jobs, they just play in the streets, at different events, and they're always on our local public radio. They're playing music for all the right reasons, they just happen to be
really great at it. When I saw them on the stage this year, opening for Uncle Earl, instead of on the street, it was a magical moment, and probably my live music highlight of 2007.
Recommended If You Like: Old Crow Medicine Show, String Bands
Myspace


-------------------------------
--------------------------

14. A Broken Consort - "Box Of Birch"
(Sustain Release) (?)


A Broken Consort is the latest guise of experimental music heavyweight Richard S
kelton, h
ead of the Sustain-Release label. The thing that immediately got my attention about this album was the way it was originally packaged. The first pressing of 28 came individually wrapped in jewelers boxes, with a special keeping it sealed. Inside were two small CDr's, a leaf, an except from a botanical dictionary, drawings by Skelton's wife and a plastic bag of birch twigs, all wrapped in clean linen. In short, this record is more than just a listening experience. Of course, I wasn't one of the 28 to get that original package, but now the release is available in a regular package for a semi-wide market, and I've got my hands on it, and it's my favorite experimental/ambient release of the year. 2007 was a banner year for experimental music, people pushing the boundaries of what could be recorded and still keep it beautiful. On "Box Of Birch" Skelton has set a high bar. The alb
um is essentially a folk album, I mean, made wi
th what I assume to be
traditional folk instruments. We get acoustic drones, accordian sounds, an aural experience that changes from heavy metallic noise to light, distant strumming over the course of the work. This is a release that will envelop you.
Recommended If You Like: that weird Finnish folk stuff going on
Myspace (not updated for this album)


-------------------------------
--------------------------

13. LCD Soundsystem - "Sound Of Silver"
(DFA) (March 20)

"Sound Of Silver" has already been called album of the year by numerous publications around the world, so whatever I write here hardly has any bearin
g. It's a great album, and that's about the jist of it. James Murphy and company silenced people who thought that dance rock was dead by creating an album of GASP great song writing. It was probably hard for you to not hear "North American Scum" this year, clearly this album's "Daft Punk Is Playing At My House" But if you paid any attention to almost any music publication you undoubtedly read something about the tracks that follow that on the album. "Someone Great" and "All My Friends" are two landmark songs. I mean la
ndmarks songs. Definitely two of the best of the y
ear, and recognized as so by everyone and their mother. They made me a believer in James Murphy. The guy is more than just a gimmick, more than just a producer, more than just some new indie David Byrne-esque demi-god. James Murphy is a musician and "Sound Of Silver" is, unlike most albums on this list, going to be recognized as a classic 20 and 30 years from now.
Recommended If You Like: Talking Heads, The Rapture, The Fall
Myspace


-------------------------------
--------------------------

12. Jay-Z - "American Gangster"
(Roc-A-Fella) (November 6)

Jesus, this wasn't supposed to happen. Not after "Kingdom Come." But it has, AGAIN. after The Dynasty he had The Bluepri
nt, after The Blueprint 2, he had The Black Album, after Kingdom Come he has American Gangster. Sometimes I think Jigga is just fucking with us. Actually, I'm pretty convinced of it. Throughout this album, his delivery, his rhymes, his whole aura exudes the fact that he knows he's the best. Beyond being the richest musician/entertainer around, beyond being the face of hip hop for the last 10 years, beyond being the president of Def Jam and owning the New Jersey Nets, Jay-Z is first and foremost one of the best rappers to ever hold a microphone in his hand. "American Gangster" is classic Jay-Z. Expert production, lighter on the pop crap t
hat was most of Kingdom Come, this album, inspired by the movie of the same name, is one of Jay's fiercest albums. He gloats, he has his guests, but he's talking about the streets again, he's adopted this character, whether or not it's him. After this album, there's no doubt he should have never retired, I take back everything I said last year.
Recommended If You Like: If you haven't heard Jay-Z, you aren't reading this list
Myspace


-------------------------------
--------------------------

11. Dungen - "Tio Bitar"
(Kemado) (May 15)


Apparently "Tio Bitar" loosely translates to something like "Ten Piece/Songs" And it's an apt title. For the first time in their relatively short career, Swedish psych rockers Dungen have crafted an album that sounds like it almost has songs on it. Opening the album with a killer heavy psychedelic jam session, complete with flute interludes, Dungen isn't beating around the bush. "Tio Bitar" succeeds where their other albums fail, because for the first time, the band isn't so stuck and self-indulgent. They're copying their obvious fuzz-rock idols of the 60s, and instead of trying to push the boundary as they can, they have instead created one masterful rock record. Of course, I still don't know the lyrics, they're sung in Swedish, but since this cd has not left my car since May (it's left my deck, just not my car), I've had a hell of a time trying to imitate what I assume are Swedish words. The songs are drenched in feedback, in perplexing lo-fi AND hi-fi production, layered vocals, organ sounds, but most important are the guitar solos, whether they are 12-string acoustic brain-melters or loud as hell Hendrix riffs, Dungen is taking us back to a time when drugs and rock were one, and when combined, actually made great music.
Recommended If You Like: Blue Cheer, Hendrix, 60s psych music
Myspace


Top 10 tomorrow.